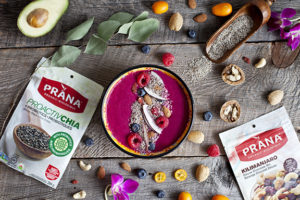 Prana tries to keep clean label snacks as healthy as its business practices
By Hermione Wilson
Prana puts a lot of thought into its snacks. Not only is the family-owned, Montreal-based company dedicated to making certified organic, kosher, vegan, gluten-free, GMO-free, preservative-free and sulfite-free products, it has also made sure its business practices match its wholesome, socially conscious image.
"From the very beginning… me and my husband, we were not about profit," says Co-founder Marie-Josée Richer. "Profit is important and it's the way you keep a business sustainable through time, but we always had at heart the social impact of our practices and the environmental impact."
The company received B Corp certification in April 2015, which involved an evaluation on its business and human resources practices, as well as its social and environmental impact. B Corp is a consortium of companies who have pledged to be a force for good in the world. Prana will undergo another audit in May 2017.
The level of care Richer and her team apply to their business practices extends to the way the snacks are formulated. Prana is Safe Quality Food (SQF) certified, which means the team must ensure ingredient suppliers have been certified. Random tests are conducted on the ingredients for pesticides, preservatives and hard metals, explains Karine Sicard, Quality Assurance Manager.
"Karine works a lot to ensure that first, the ingredients arriving at Prana are fresh [and of] good quality, and after that we ensure the process we have at the plant is assuring a good quality as well," says Tiffanie Murillo, Research and Development Manager. "We have sensitive ingredients, we have oxidation risks. Nuts, one year later, are not as fresh as in the beginning, but we are trying to have the best conditions to support the shelf life over time."
According to Murillo, Prana's product development process goes something like this: the team sits down with the marketing department and comes up with a product brief that includes the nutritional, clean label and free-from certification requirements, as well as the target taste profile. When a prototype is ready, it will go to customers and the marketing department for a second opinion, and then back to the drawing board if anything needs tweaking.
"We try to [maintain] a clean label and not include too many preservatives," Murillo says. "We will never use added flavours, added colours, we only use true… wholesome ingredients, and we don't want to use ingredients that have a [negative] social or environmental impact." For example, she says, Prana won't use palm oil because of its link to deforestation.
It's Prana's determination to be a force of good in the world, through its business practices and the products it sells. "Corporations have so much power," Richer says. "Yes, we can do business, but we can do it in a different way. We can redefine success and then inspire other businesses to go along so that all those ripples create a current. Business can benefit all shareholders."