By Hermione Wilson
"Food really is a common language that goes beyond borders," says James Huang, chairman of the Taiwan External Trade Development Council (TAITRA), during his speech at the opening ceremonies for the 2018 Food Taipei expo. The audience is a diverse group gathered from all over the world to learn more about the Taiwanese market and to make important business connections. Food is indeed their common language.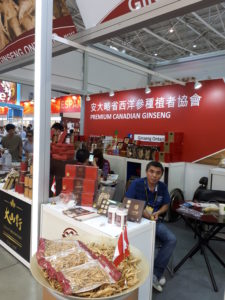 Thirty-four countries are represented at this year's show, with over 4,000 booths exhibiting food and beverage products and an array of processing machinery. At the Canada booth, Karen Huang, trade commissioner for the Canadian Trade Commissioner Service in Taipei, flits from one booth to the next, eager to show off the products Canada has to offer.
"Our mandate is to help Canadian companies promote their products and enter the Taiwanese market," Huang says. "We are focused on helping Alberta and our other Canadian suppliers to further advance their market share here in Taiwan."
Huang is responsible for promoting the Canadian agrifood sector in Taiwan, which means everything from Albertan beef to ginseng from Ontario.  "In terms of North American ginseng, Canada is the number one supplier in the world, so the OGGA (Ontario Ginseng Growers Association) has a big presence in the Canadian pavilion," she says. "They are very dedicated to this market as Taiwan is a big consumer of ginseng and Chinese medicine."
Among the products Canada exports to Taiwan are grains – like flaxseed, oats, rice and wheat, as well as seafood, and snack foods.  Canada's top three export products to Taiwan are meat (pork, beef, and poultry), seafood, and oilseeds (such as non-GMO soybeans). Huang and her team are pushing beef in particular this year. There's a high demand for beef in Taiwan because it doesn't produce much on its own. "Over 95 per cent of Taiwanese beef is imported," Huang says.  The Taiwanese market had been closed to beef for some time due to new cases of BSE (mad cow disease) and only reopened two years ago in 2016.
Every time the Taiwanese market shuts down, Canadian beef has to re-enter and re-educate consumers, says Deana Kao, Senior Manager at Canada Beef International Institute in Taipei. As an association, they try to explain to consumers that a complex system of detection enables them to quickly identify and correct issues like BSE. "Luckily Canada has a really great image," Kao says. "People [in Taiwan] believe actually that products from Canada are more pure than those of other countries."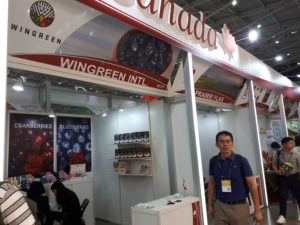 In 2017 Canada's total agrifood export to Taiwan amounted to CAD $320 million, a 22 per cent increase from 2016. The biggest growth in terms of value lies in Canada's pork products. Canada's pork is very export oriented, Huang says, which has led to Canada becoming a top supplier to the Taiwanese market. "Non-GMO soybeans are another area where we think Canada might have more growth in the future, because Taiwanese consumers are very health conscious and look for quality products," she says.
Huang says that the Trade Commission gets a lot of inquiries about organic Canadian products, despite it still being somewhat of a niche market on a global scale. Any product with multiple functionalities is bound to be popular in Taiwan, she says.
The island nation is home to one of the world's largest aging populations, with almost 15 per cent of Taiwanese citizens being over the age of 65. "Canadian companies who can supply products or food that can [claim to] boost your immune system, or slow down your aging process, or be good for your skin, have a lot of potential," Huang says.
Huang is busy at the 2018 Taipei food expo helping Canadian companies reach out and build key contacts to the Taiwanese market. She's also working to help them understand and comply with local regulations and buyer expectations. "Every year we have a pavilion with about 16 booths and we usually have between 17 to 20 companies exhibiting in the Canadian pavilion," she says. "We have been exhibiting at this show for more than two decades. We are very committed to the Taiwanese market."
A recurring complaint among Taiwanese food companies at the 2018 Taipei food expo is that they are not only competing with mainland Chinese companies offering lower prices, but are also fighting to escape the global image of mainland Chinese products as being cheap, poorly made and, in the case of food products, unsafe. Taiwan is not China, several company representatives insist. "Our political ties with China are affecting Taiwanese business and affecting brand recognition," says Tony Ling, Assistant GM at Mill Powder Tech. It is the biggest obstacle to trade in North America, he says. He believes shows like Food Taipei are so important because they provide a showcase for Taiwanese companies to distinguish themselves from the mainland.
Here is a snapshot of the Taiwanese food industry:
Anko Food Machine Co. started with an automatic spring roll machine in 1985, built on Chairman Robert OuYoung's belief that Chinese dim sum would become popular around the world. Over 30 years later, food tastes have become even more international he says. The same machine that makes dumplings for the Asian market can make pizza pockets for the North American market (making 10,000 to 50,000 pieces an hour depending on the size of the machine). With the popularity of Indian food on the rise around the world, so too are Anko's machines for producing samosas, chapatis and naan bread. Anko exports Punjabi triangle samosa and paratha machines to Canada, home to a large Indian population. OuYoung says that Anko's tapioca ball making machine is becoming more popular as global demand for Taiwan's signature bubble tea drink grows.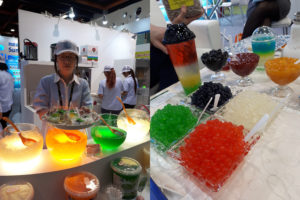 Taiwan's popular bubble tea drink is everywhere in Taipei and the Food Taipei show is no different. Everywhere at the show there are exhibitors who manufacture tapioca balls or who produce the machines that make tapioca balls. One company has even brought a robot that mixes and shakes the drink, then seals and serves it to the customer. Sunnysyrup has put its own twist on its bubble tea product: the company makes flavoured tapioca balls and their popping ball product, which is also used in bubble tea and yogurt. The popping balls have a thin gel skin made of seaweed and contain fruit juice. They burst when squeezed but withstand hot and cold drinks without dissolving. According to Jacky Chen, Sunnysyrup's International Marketing Department Director, they have tested the popping balls in alcoholic beverages and found that they absorb the alcoholic drink and add a unique flavour. Sunnysyrup's newest market offering is its microwave tapioca pearls. Unlike its regular tapioca product, which comes unflavoured and freeze dried and must be cooked for an hour before serving, the microwave tapioca pearls come flavoured with fruit juice in a packet of 110 grams and can be microwaved in one minute.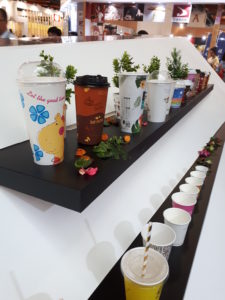 This food packaging company specializes in products such as paper soup cups, plastic cups, paper cups, paper coffee cups, paper food containers, popcorn cups, hot paper cups, PET cups, and ice cream cups. With an eye on a more environmentally friendly future, the company is moving into producing paper straws. Some countries, like the US, have already banned plastic straws, and Taiwan will soon follow, says President Jacky Lee. Day Young has ordered a machine to make paper straws and hopes to be selling the product internationally by the end of 2018. The company is also looking into developing a biodegradable corn starch cup that will be clear like a plastic cup. Right now they use a PE corn starch based coating on the inside of their PLA cups. All of their products are either biodegradable or compostable. "We want to do something better for the environment," Lee says.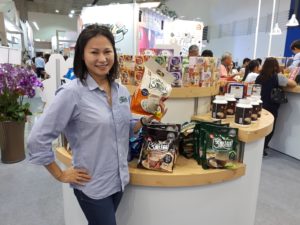 Shih Chen Foods has perfected the all-in-one format with their Milk Tea product, which they have been selling for over 20 years. Each packet contains real tea leaves, as well as powdered milk and refined sugar. All you have to do is add hot water. Unsurprisingly, their milk tea product can be used to make bubble tea.  Shih Chen sources its tea from its own tea garden, located in the mountainous Mingjian region of Taiwan. This central region is where Taiwan's famous oolong tea is grown. For the past nine years Shih Chen has been cultivating a wild tea garden  – or, more accurately, not cultivating it. They have let it grow naturally, without watering, pesticides or harvesting, and just letting the tea plants get to a certain height and maturity.
Ou-Dean started in the fruit juice and ice tea business, and has now moved into producing a number of health drinks including beverages that contain aloe, green tea, quinoa milk, enzymes, and mushrooms. Altogether the company sells 30 different varieties of health drinks and export to 75 different countries, though Canada is not yet one of them. Sales Manager Lily Nien explains that their aloe and green tea products, sweetened with fruit juices like white grape, are most popular in Europe where such drinks are common. In Taiwan, their customers prefer the mushroom drink, despite it's un-fruit-like taste. Taiwanese people like that the mushroom drink has many health properties, contains natural collagen and can lower cholesterol.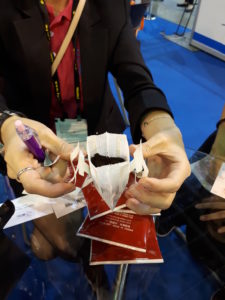 The Chung Shan Packaging Machinery company began in 1977. One hundred per cent of its packaging and sealing machines are made in Taiwan, says Sales Rep Elaine Hsieh. Each machine must be adapted to a customer's needs, whether they want to package a powdered product (such as three-in-one coffee in Asia) or a liquid product (such as salad dressing, ketchup and other liquid condiments in North America). Hsieh says that the company makes its products as user-friendly as possible, so that if you can use a cell phone you can operate and maintain one of their machines. Chung Shan Machinery prides itself on knowing market trends ahead of the market. For example, drip coffee is becoming popular in Asia. Chung Shan has developed a unique drip coffee packet which can be opened up and perched on top of a cup. Consumers who do not have coffee machines can simply add hot water to the packets and voila!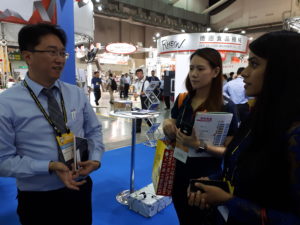 Tsung Hsing machines can add oil and seasoning to fried products, which are popular in many parts of the world, like Southeast Asia and Africa. In North America, where health concerns about fried food are prevalent, they have machines that roast products instead.  Still, there are some frying applications in the North American market. In Canada, for example, the company works with Sunrise to make a fried soy bean curd product. Tsung Hsing machines are also used to make products like banana chips, pork chops, and regular chips.
This machinery manufacturer has been producing noodle-making machines since 1966. Its machines cover the entire production line, from mixer to wheat flour skin machines, to water cook and noodle washing machines, to vacuum flour mixers. Kuo Chang Machinery imports machines that produce instant noodles to India, Bangladesh, Russia and South Africa, and machines that produce steam noodles to North America. Ready-to-eat noodles are particularly popular in Canada. The company once sold a noodle making machine to Facebook's central kitchen.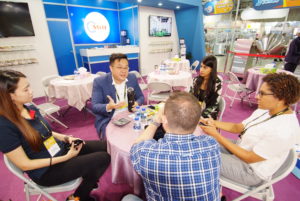 The family run business was founded in the 1940s by current Assistant GM Tony Ling's grandparents. It started out producing farm technology and basic food processing machines, and now Mill Powder Tech specializes in the processing of powdered products like rice and milk powders, seasonings, and fertilizer. "We are the powder specialists," Ling says. Every raw material industry requires powdered materials, he says. The company has sold machines to Nestle Instant Coffee, and central kitchens at restaurant chains. In Canada, Mill Powder Tech has worked with McCormick Spices, and with Toronto-based Chinese Canadian company Rizopia on their rice powder product, which is used to make gluten-free pasta.