Canada's newest canned seafood brand stands for people
and the planet
By Jana Manolakos
Given the choice between fresh or canned foods, most consumers shy away from tinned options. It's behaviour that's being challenged by Scout, a new Canadian seafood brand, launched this September.
Scout is on a mission to earn the trust of consumers with its line of ethically sourced tinned seafoods, featuring Atlantic Canadian lobster, P.E.I. mussels, Ontario trout and albacore tuna – and it's doing so with heart. The new craft seafood cannery is the first to source all of its species in Canadian and U.S. waters, supports Indigenous communities and even takes a stand against human trafficking in the fishing industry.
The timing couldn't be better for launching Scout. A recent survey for the Marine Stewardship Council (MSC) says there is increasing demand for sustainably sourced seafood. Experts suggest that canned seafood is increasingly popular because it's easy to prepare, ready to eat, has a long shelf life and offers health benefits.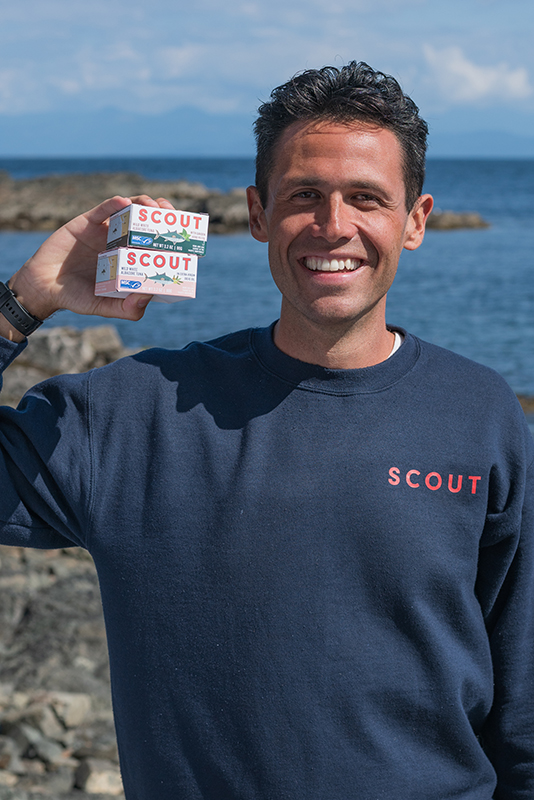 Scout is committed to protecting ocean health through its network of small-scale and sustainable North American fisheries and two canneries. The company employs a full crew of seven across Canada and the U.S., along with a team of part-time contractors. The rapidly growing venture is projecting $4 million in sales by the end of 2021.
Canadian Food Business interviewed company CEO and co-founder Adam Bent. He's an advocate for sustainable seafood practices and a founding member of Seafood Collab, an industry group of emerging brands committed to sustainable seafood.
What distinguishes Scout from other fish canneries?
Scout is the first to have a multi-species canned seafood brand all sourced from Canadian and U.S. waters. We are focused on biodiversity with our products, bringing under-loved species to consumers and breaking away from only offering the standard tuna and salmon in a can. Most products you find in store today are imported from overseas. We source directly from the fishery, and our products are hand cut and hand packed in Canada.
How do you ensure responsible fishing?
Scout sources both wild and farmed species. We are aligned with the MSC and only source species from MSC-certified fisheries in the U.S. and Canada. Our lobster product is from the lobster fishery in P.E.I. and our tuna is from a B.C. albacore fishery. We work directly with the fisherman, ensuring fair wages. As we grow, we will continue to source directly from the fishery; however, we make some purchasing decisions with responsible industry partners, like Organic Ocean, based in Vancouver, who worked with us to navigate our first large tuna purchase.
With so much emphasis on fresh foods, how are you rebuilding consumer trust in canned goods?
Scout's mission is simple: We want to become the most trusted seafood brand in North America. Our products are both responsibly and regionally sourced and culinary forward. Scout is a Certified B-Corp Pending – we are committed to meeting the highest standards of verified social and environmental performance, public transparency and legal accountability to balance profit and purpose. We are also a One Percent for the Planet member, meaning every sale re-invests into climate action projects. As an impact brand that connects what we do to climate action and culinary enjoyment, we are changing consumers' relationship with preserved seafood. Preserving seafood offers a long shelf life and is equally delicious and nutritious as fresh and frozen seafood. To change the perspective of canned seafood as a lower quality commodity product, we are encouraging consumers to incorporate more preserved seafood as an ingredient – challenging the notion that fresh or frozen seafood is superior.
How do your products reduce food waste?
There is a tremendous amount of food waste in fresh and frozen seafood, not to mention the energy requirement of cold chain from boat to shelf. In addition to our broader impact program, shifting consumer demand from fresh and frozen to incorporating preserved seafood helps reduce food waste.
What inspired you to pursue canning?
Looking at the current landscape of seafood consumer packaged goods and canning in general, the category is made up of antiquated brands who are disconnected from consumer values and ocean health. We saw a whitespace in the category and wanted to challenge the status quo and simply do things better. We've brought products to market that resonate with consumers and offer them the product values that were not being provided by commodity brands – values like trust and transparency, culinary enjoyment and our impact program.
Where do the recipes come from?
Sustainability doesn't come second to taste; each recipe from our craft lineup has been developed by our co-founder and acclaimed chef, Charlotte Langley. From watching fishmongers unpack their daily catches in P.E.I. to perfecting her clam chowder, seafood has long been a part of Chef Charlotte Langley's life. After working in Canada's most creative seafood kitchens, she began to wonder how the home chef could enjoy more of it locally.
Why do you support Indigenous communities and Not For Sale?
Our impact program is focused on intersectional environmentalism, meaning we are looking at opportunities that benefit both people and planet. Our program is evolving to support First Nations lead environmental projects in the regions we source from, which we hope will evolve to include partnership opportunities on the business side as a form of economic collaboration and reconciliation. We are currently building that program that will launch next year. We have an established partner with Not For Sale, a human rights and environmental organization with the mandate to eradicate human trafficking and modern slavery, two issues that are rampant in the global seafood industry. We are supporting Not For Sale as an international component to our impact program and will broaden our program to include our regional focus and our collaboration with First Nations communities.
What sets you apart from bigger brands?
We combine the seafood industry's heritage with Chef Charlotte's own unique take to create a product straight from the heart. By using ethical products from those same fishing communities, we want to help restore the tradition of preserved seafood for North America. Our products are hand cut and hand packed, and our impact program is also a major differentiator. Commodity brands in the old retail world have started to borrow from the playbooks of emerging brands who are delivering on what engaged consumers want in their products; however, it's not necessarily coming from an authentic place but more as a function of marketing. In the end, if we can inspire bigger brands to do better, then we are helping improve the industry as a whole.