By Marcia Mogelonsky
Snacking is an established eating pattern among Canadian adults, with 89% reporting having snacked at least once during a given week, according to Snacking Eating Habits – Canada. The most popular time of day for snacking is between lunch and dinner, an eating opportunity for 56% of Canadians. Also popular is the post-dinner snack time, when 47% of Canadians have a snack. Eating between breakfast and lunch is also popular: 41% of Canadians reach for a snack during that daypart. (See Figure 1)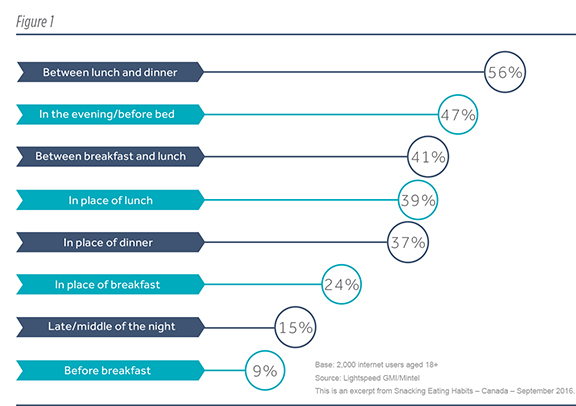 The foods that are chosen for between meal snacks are expected to provide a number of qualities: 19% of between-meal snackers, for example, choose snacks that are healthy, while 29% are looking for a light snack during this interval. But evenaing snacks are expected to provide something different: Canadian snackers look for the post-dinner snack to be comforting (29%) and indulgent (28%). (See Figure 2)

Snacks range from healthy to indulgent
Canadians are as likely to snack on healthy foods such as fruit and vegetables (61%) as they are to reach for less healthy salty snacks such as chips and popcorn (60%). Indeed, snack choices range all over the food spectrum: cheese and yogurt, for example, show that snackers reach for better-for-you (BFY) options, but these healthy choices are balanced by indulgent snacks such as chocolate, ice cream and frozen treats. (See Figure 3)
Given the propensity to ascribe specific snack attributes to specific snack opportunities, it is likely that evening snackers are drawn to the more indulgent options (e.g. chocolate, ice cream) while between-meal snackers seek products that are healthy and convenient (fruit, vegetables, drinkable yogurt).
Interest in innovative snack formulations
Canadians are great snackers, and they have expectations of the type of snack for each snack occasion. There is room to innovate around snack occasions – and the snacks themselves – as Canadians are interested in a range of snack types. About a third of Canadian snackers are interested in snacks that fill them up (36%); snacks that are fortified with benefits (33%); and shareable snacks sizes and formats (32%). (See Figure 4)
A number of manufacturers have been experimenting with snacks that provide a "fill up." Hormel, for example, has introduced a Honey Ham Snack Tray which comprises ham, cheese and crackers, while Mama Chia has introduced a chia-based snack that suits Canadians' desire for functional and fortified snacks. Given Canadians' propensity to be adventuresome snackers – almost a quarter seek ethnic inspiration in snacks while 13% are interested in non-traditional combinations – and their desire for shareable and heatable snacks, there is considerable room to develop a range of snack options across a number of categories.
Highlights
Canadians are a good audience for a number of snack innovations:
Canadians like to snack; between meal snacking is popular, as is the after-dinner occasion.
Depending on the snack occasion, snacks range from healthy to indulgent.
There is considerable room for innovation as Canadians are open to new snacks: innovations around snack kits for example, and snacks that have functional attributes.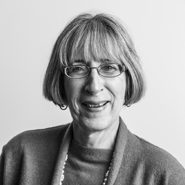 Marcia Mogelonsky, Ph. D., is Director of Insight, Mintel Food and Drink.