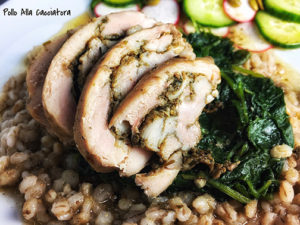 Founder Maurizio Racco shares why eating local is the healthier option
By Kelly Townsend
There's no question that more and more Canadians are looking for healthy choices when it comes to their diets. On the flip side, with busy lifestyles becoming the norm, many don't have time to prepare home-cooked meals each night.
Maurizio Racco, founder of DMR Foods, has set out to prove convenience doesn't mean sacrificing health. He has launched füdi, a locally sourced and healthy pre-packaged meal designed to appeal to every demographic in the Greater Toronto Area (GTA). "It's a return to how we used to eat with a modern delivery method," says Racco.
The inspiration for füdi came to him in a single night; awake and hungry, Racco ventured to his local grocery store to pick up something fast and easy to make, but was dismayed at the lack of healthy options. After some trial and error, and a handful of broken vacuum sealing devices later, füdi was born.
"I believe that the human being is better eating and drinking anything within a certain radius of where they live," says Racco. "If you're making something with Ontario products for people in Ontario, there's certain wholeness to that circle."
Supporting local farmers is a big part of füdi's business model, not only from a health perspective, but as a way to help the local economy. Racco has partnered with a number of local vendors in the GTA including Beretta Farms in Etobicoke, ON, which supplies certified organic and antibiotic-free chicken, and Burnac Produce, located in Vaughn, ON.
"It's been a very open and easy dialogue because I treat it like a business," says Racco. "As a result, when you enter a negotiation like that, people are willing to hear what you have to say."
Racco says füdi's entrées have a night and day difference from other prepackaged meals found at the grocery store. Aside from locally sourced ingredients, the packages contain no added salt. "You have to have a sophisticated palate, one that likes to taste the ingredients and doesn't want it to be overpowered by salt," says Racco.
Another difference is the way the meals are cooked. Instead of heating the food up by microwave, each füdi entrée is heated up by boiling water, a cooking method called sous-vide.
Racco says füdi is a product that appeals "across the entire age spectrum," from older generations looking to cut salt out of their diets or parents looking for a healthy and easy meal babysitters won't burn the house down trying to prepare.
The company's latest products, sold at Whole Foods locations across Ontario starting in April 2016, were inspired by global flavours ranging from Italy to South America. "We are the cultural mosaic and that's what I believe should be represented," says Racco. "What better way to be tolerant and understanding with someone than breaking bread with them? If I'm willing to eat the flavours of another culture and another culture is willing to eat mine, even if we're not at the same table, we are."